With Valentine's Day right around the corner, are you eager to impress your significant other with a beautiful and memorable gift? At Balloonacy, we are here to help you accomplish just that. We offer a wide array of custom balloon arrangements that are perfect for wedding parties, anniversaries, and of course, this upcoming holiday which is dedicated to all things romance. If your partner prefers unconventional and unique presents, you can't do much better than a selection of whimsical, gorgeous balloons. Flowers are great, but balloon arrangements are guaranteed to leave a lasting impression.
Unlike a traditional floral arrangement, balloon décor is designed to last way longer, so you can enjoy your arrangement for weeks to come. Also, you can pick out the exact colors and designs you want, since balloons are way more customizable than flowers that may not be in season or available at a given time. Also, balloons are guaranteed to bring a smile to your face, since they remind us all of our childhood innocence, and are always associated with only positive things: birthday parties, parades, store openings, etc.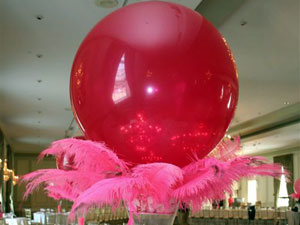 If you would like to learn more about balloon décor, we would love to hear from you. Simply fill out this contact form today and our staff will reach out to answer all your questions and help you really impress your loved one this Valentine's Day. No matter what the occasion, you're guaranteed to make this year's celebration all the more unforgettable with one of our special creations.
If you would like to place an order, please feel free to call us at (212) 608-5335 or email us at info@balloonacyonline.com.
Happy Valentine's Day!