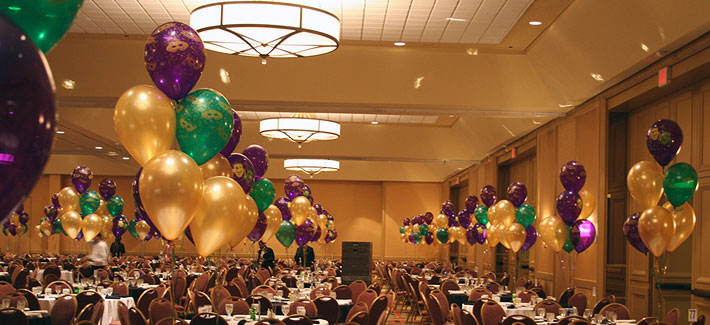 Corporate events in Manhattan, NY don't always have a reputation for fun and excitement. But if you want your business's next event to stand out, there's an easy way to do it: get in touch with Balloonacy to decorate your next event.
We've worked with diverse clients across the state and can cater our services to match any need. For creative centerpieces, elegant decorations, and exciting arches and columns, you can't do better than Balloonacy.
Learn More About Our Corporate Services
Whether you run a major corporation or a local business, our supplies and decorations will delight yourguests and help your company stand out. We have experience with every major corporate event you can imagine, from take-your-kids-to-work days to store openings and product launches. Hosting an end-of-year party for
your employees?
Throwing a gala for investors? We're here to help. We have extensive experience with corporate event decorations. In fact, we've worked in this industry for over 35 years. We work closely alongside our clients to ensure that we deliver the right aesthetic at the right price, and our prices stay consistent. Since our large warehouse is fully stocked, we almost always have the supplies you need, as soon as you need them.
Become One of Our Happy Customers Today
We've worked for corporate clients both large and small throughout our years in business-scroll through the list on the side of this page to get a look at some of our satisfied customers! We produce decorations that can fit any aesthetic, and our options are as diverse as our clientele. To learn more about what we can do for you, browse our gallery and our general FAQs page.
Your search for the perfect special event decorations in Manhattan ends today. Call us at (212) 608-5335 or get in touch online, and we'll contact you at a convenient time. We staff our phones from 9 a.m. to 6 p.m., so you can rest assured
that we'll reach out to you quickly.
The Macys Parade of New York is eternally grateful for your balloon contribution! – Mr. Macy
You guys rocked it! – Dee Snyder
Some of our clients:
AT&T
Balloons and Parties Today
Bride's Magazine
Celebrate Magazine
Distinctive Party Planner
Down to Earth
Eastern Association of Colleges and Employers
Entertainment Tonight
Exxon
Fairleigh Dickinson University
FOX Television's(Good Day New York)
IBM
Images
Macy's
New Jersey Monthly Magazine
MTV
MTV's(Remote Control)
New York University
NBC's(Fame)
Nordstrom
Omni Athletic Club
Ron Howard's(Ransom)
Seton Hall University
Sony
St. John's University
The Bergen Record
The David Letterman Show
The Herald News
The Paterson News
The Star Ledger
The Sunday Post
The Times
Turner Broadcasting
USA Network's(Up All Night)
Viacom
Westwood One Radio
WWHT's New Jersey News
You've Got Mail
Z-100 FM