When planning a celebration of any kind, balloons are an essential part of the festivities. From arches to sculptures, to centerpieces and more, there are limitless ways to lift the mood of any party with the right balloon décor. At Balloonacy, we have been providing clients all across the country with affordable, unique and exciting balloons for Bar/Bat Mitzvahs, birthdays, anniversaries, grand openings, and many other occasions for the last 36 years! Read on to learn more about the top five balloon decorations that are guaranteed to take any event to new heights.
1. Balloon Art – When it comes to balloon creations, the world is your oyster. There are countless ways to express your creativity by simply shaping and twisting balloons into your desired design. If you are throwing a party for young ones and they are really into a certain cartoon character, we can make centerpieces of that image much to theguests' delight. If you prefer something more chic and abstract, we can help you choose the color and size you want and create something unique and special just for you.
2. Balloon Arches – What better way to usher people in than with a beautiful and eye-catching balloon arch? Whether you're celebrating a store opening or a birthday, you can choose the size of your arch, the type of balloons used, the shape of it, and the placement, to create a custom design that will start any event off on the right foot.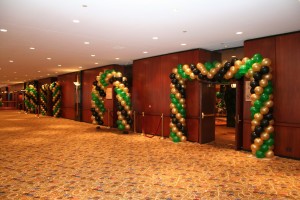 3. Centerpieces – While nailing the entrance to the party is important, you also want to pay some attention to guests' tables as well. With balloon centerpieces, you can take the reins and choose the style, colors, and overall appearance of your creations.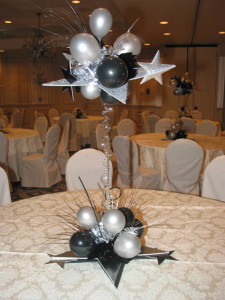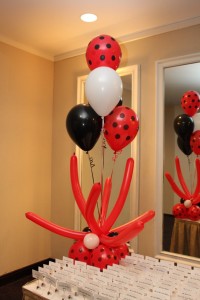 4. Sculptures – Our talented sculptors can convert a simple selection of balloons into flowers, Disney characters, palm trees, menorahs, dinosaurs, flags, and so much more. When you browse through our diverse color chart and sizing guide, we can advise you on the items that will suit your party theme, budget, and event space size best. Anything is possible when it comes to creating an awe-inspiring balloon sculpture for you and your loved ones to enjoy.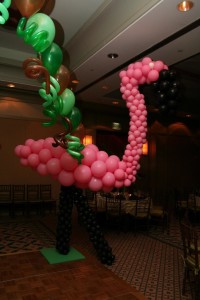 5. Balloon Drops – Looking for an on-trend way to set your celebration apart from all the others? Balloon drops are not only statement-making and fun, they can really help you make a splash at everything from a corporate event to an anniversary party and all types of celebrations in between. We can determine the number of balloons, colors, and timing of the drop so that it goes off without a hitch and leaves your guests in awe. When choosing balloon decorations, there's no such thing as "one size fits all". Our staff will work with you to determine the type of party you are planning, along with the venue, theme, and other details, so we can handpick the accessories that will transform your party and have guests talking about it in the weeks and months to follow. If you would like to learn more about our selections, visit us online today!